Let's face it! Staying in the kitchen for hours is outright frustrating. Though cooking does not come last in our priority list, but who wants to spend hours on it. Right? But, we can always think of other ways. What if you get the perfect set of kitchen accessories to simplify your job? It can be something like cutters, knives, food containers, or possibly an entire set of products that streamline your job in the kitchen. While you prepare delicious delectable for the gastronomic delight of your family, these kitchen accessories will simply ease your job. Here, we have rounded up the top twelve kitchen accessories that will help you do your job in the most hassle-free manner.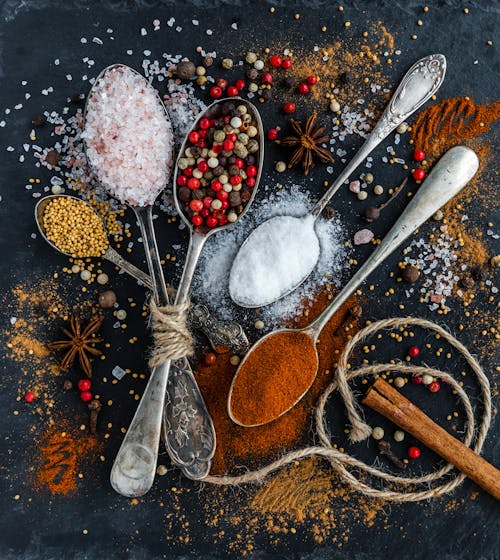 Top 50 Kitchen Accessories
Microwavable Food Container
Microwaving the cooked food from time to time is no less than a hassle. But, when you have a microwavable food container, it becomes a breeze. Why? Because you can preserve the food in the box and microwave it as per the requirement. The result is fresh food whenever you want.
This 3-layered container can hold enough food for a single meal. So, if you feel like preparing your lunch a night ahead, you can store it anyway in this container. And, the next day, just microwave it before eating.
Designed from food-grade plastic, this fantastic food container won't get your food burned if placed on the microwave. It's available in color options like beige, pink, and green.
Flower-shaped Dough Cutting Tool
Cutting out doughs is the toughest thing ever. You won't believe it unless you have had been through it. But, cutting out beautiful shapes is no less than a challenge in itself. However, with this flower-shaped dough cutting tool, your job is easier than ever.
Use this cutting tool for making biscuits, fruits, ham, and anything that requires cutting out a dough.
This stainless-steel cutter is rust-free and highly durable. More than anything, it comes with the corrosion-resistant feature, which makes it even more useful. For your convenience, it comes in three different sizes.
Sushi Set
If you just die for the mouthwatering sushi and want to cook it all alone, this five-piece sushi making tool kit can be your savior. It's the perfect product for cooking sushi rice, and beginners can use it in the most hassle-free manner.
It's designed from bamboo and non-toxic, eco-friendly materials. So, you don't need to worry about any chemical-induced food poisoning. The package comes with rolling sushi mats, rice paddle, a spreader, and five pairs of chopsticks. The best part is, this product is easy to clean. Simply rinse it with mild soap and water.
Bamboo Basket Set
Have you ever thought of a steamer basket made from entirely organic products? Well, the one we are talking about is a bamboo steamer. Surprising, isn't it? Well, you can now steam your favorite food without worrying about any chemical contamination.
This fantastic bamboo basket is perfect for steaming vegetables, fish, dumplings, couscous, and other similar things. Easy to use, this bamboo basket needs to be placed in a pan with water to steam your food. Isn't it quite a charm? After all, you do not need to worry about any toxic materials contaminating your stomach.
Kids Chopsticks
Now, here comes something fantastic for the little members of your family. These beautiful chopsticks are great for kids to learn using them at an early age. We all know how difficult it is to make our kids learn table manners. But, with this designer chopsticks, it will be more comfortable than ever.
This fantastic set of chopsticks is designed from food-grade material and extremely safe for the kids to use. It's featured with a heat-resistant silicone connector. And, the best part is you can even put them on the dishwasher.
To keep your kids hooked, these chopsticks have sweet and adorable designs in the body and cute animal tops. They are 18cm in length, thus making it easier for a kid to hold.
Dumpling Molding Tool
Making dumplings has never been this easy before? Why? Because this awesome dumpling molding tool can help you prepare cute dumplings within a short span of time. It's faster and easier, and you don't need the proficiency of a chef to do this.
It's pretty convenient, and you simply have to put the dough in the molding tool itself to get that perfect shape. This silicone made product can amazingly create dumplings and keep you safe from toxic contamination. It features a 7 cm diameter, which makes it look too cute.
So, if you are planning to prepare momos or something like gyozos or thupka, this dumpling is the ideal accessory you must invest in.
Kitchen Chef Knife
We all know how important is a chef knife. Not only it helps us to cut out veggies, fish, and other things, but it also helps us do it safely without much hassles. It's a steel knife with manganese covering. Quite obviously, it's pretty durable.
Your kitchen chef knife is 7 inches wide while weighing about 300 grams. Quite obviously, it's pretty easy to hold. The handle is designed from steel shank, wood, and there's a rivet fixing, thus, avoiding any sort of damage. It's an eco-friendly handmade knife and ca be effectively used for professional cooking as well as on a daily basis.
Chinese Tea Table Set
Are you planning to organize the Chinese Tea ceremony? Then why not investing in this fantastic tea set. It's a perfect gear to hold this ceremony while keeping the Chinese charm intact. With distinct Chinese designs, this tea set brings you the authentic flavor of the tradition. Moreover, this is visually appealing, and you can use these when your guests arrive.
They are designed from top-notch ceramic materials, which makes them even more elegant choice. It also arrives with a wooden tray with a complete set of cups, saucer, and teapot. A plethora of options are available in color and designs.
Portable Chopsticks
Portable chopsticks are great and highly functional. For traveling or picnic, they make an awesome, and rather a mandatory accessory. Featuring a pretty shape and extremely smooth surface, these portable sticks are also eco-friendly as they are made of stainless steel and wheat straw.
These are so designed that even a kid can use it without facing much hassle. It's cm in width, thus pretty comfortable to hold.
Japanese Wood Plates
As the name suggests, these are entirely eco-friendly and pretty durable. By now, we are already familiar with the adverse outcomes of metals. So, wooden plates are a healthy addition to your kitchen. Though it does not directly make your job easier, they can take care of the health and well-being of your family.
With exotic and straightforward designs, they can add drama to your dining table. They look fantastically gorgeous with their solid wood color.
Hand Painted Tea Cup
Porcelain teacups are always a thing of beauty, and this one with traditional kung fu design is eye candy. This one comes with a cute and vivid fish design. What sets it apart from the lot is the exclusive hand paint.
Whether you are using it on a daily basis or occasionally for the guests, this teacup is a fantastic choice. Made from porcelain, the cup does not retain the odor after washing it. Simply use a mild soap to clean it.
Arrived from the Fujian province of China (already known as Ceramic capital), the product features a smooth surface, glossy finish, and high-abrasion resistance.
Wooden Spoon
If you have ever wondered whether you are consuming metallic toxic, you will know the requirements of having a wooden spoon. And, here you are. We bring you a fantastic wooden spoon set that is designed from wooden material. It is non-toxic, durable, and of course, tasteless. Wooden spoon set makes a perfect choice for events like birthdays, parties. They make a great gift as well.
This fantastic spoon looks impressive and is easy to use.
4 Pc Cheese Knife Set
Are you an ardent cheese lover? Then you are in the right place. This wonderful set of cheese knife is definitely your cup of tea. All the four knives work wonderful in slicing any kind of cheese you wish to have. Additionally, they are easy to carry around since they light in weight. Besides, the appealing appearance of the items makes it a perfect idea of a gift.
4 Shape Dumpling Mold
Now preparing dumplings is easy and convenient. Prepare them at your heart's content in your home with this 4 shape dumpling mold. The molds are high-quality food-grade products. Additionally, it is easy to use a material that is non-toxic and durable to use. Hence it is sure to last long. You need to cut, fill press then seal. Yes, it is as simple as that. Use this product to prepare pies, calzones, ravioli, and more delicacy.
4 Hole Squeeze Bottle
Now presenting your ham in a delicious way is a step closer to you. This 4 hole squeeze bottle enables you to design your toasted food in delicious patterns. Additionally, it saves time, hence you can have 4 toasts in one go. This product is a high-quality item that is BPA free. Additionally, you can store condiments in these containers for later usage without worrying about anything regarding the tastes.
304 Stainless Steel Butter Spoon
Enough of the regular choice of butter spoon which comes in usual steel color. This era of innovation brings you some lovely color options in a butter knife. Choose the shade which appeals to your eyes the most. Besides, the appearance makes them an ideal choice of gift for any upcoming wedding.
3 In 1 Avocado Shavers
Eating healthy staying healthy starts with avocado. However, peeling the fruit from inside is a hassle. But not anymore. With this amazing choice of shaver, everything is easy and sorted. The fan blade works amazingly in peeling and shaving precisely. Moreover, it is one of the high-quality silicone plastic material which is BPA free.
3 Pc Set Plastic Dough Cream Scraper
Baking a cake might be easy. However, finishing the whole idea with professional touch is impossible at home. But not anymore. With the help of this plastic dough scraper, everything you bake gets a professional touch. Your guest is sure to wonder about your baking skill after they see your masterpiece at the dinner table.
3 Meter Roll Parchment Paper
This parchment paper makes your snack ideas look cool with the vintage touch. The newspaper design not only looks stylish, but the old sepia shade makes it appealing to the eyes as well. Additionally, the whole idea is eco friendly and bio-degradable to go with. Besides, there is no requirement of using plastic carry bags while you are using this wax paper.
2 Sided Plastic Tea And Coffee Strainer
Enough of the old school method of straining your favorite hot beverages. This unique device gets two-sided slots to make your tea or coffee more favorable. And the additional plunger lets you intensify the flavor as well. It is a silicone PP plastic product.
2 In 1 Meat Tenderizer Marinade Injector
With summer approaching, barbeque season is right at the corner. However, this year try some new method to tenderize your steaks. Try this product out which saves both your time and effort. It is stainless steel and plastic product which is a fresh concept in the market. It is a professional item, but you can still have it in your home to have everything sorted this summer season.
2 In 1 Paper Chili Bell Jalapeno Seed Remover And Slicer
Removing the seeds of the jalapeno is a hassle. However not anymore. This era presents you with this amazing product which is sure to save your time and effort altogether. One can also use the device in coring pepper chili. It comes with a CIQ certification and it is an eco-friendly product.
2 Pattern Stainless Steel Cheese Grater
Having a pizza night without some extra yummy cheese, since you do not have a grater is a real problem to talk about. Try out this amazing 2 in 1 product which not only helps you grate some yummy cheese but you can definitely grate your favorite chocolates too. The grater is super sharp and gets made from high-quality stainless steel. It is an 'easy to clean' and eco-friendly product.
1 Pc Cheese Butter Slicer Tool
Slicing out the perfect quantity of butter would be a hard deal if you are using a regular spoon. Therefore to make the job perfect and smooth try out this product. You can slice both butter and cheese using this item. Moreover, it is an easy to clean item. Besides, it is an eco-friendly high-quality plastic grade product to consider investing some bucks.
One Pc Carbon Steel Loaf Pan
Getting perfect shape to your loaf is something pretty impossible at home. However, it is_possible now. Try this amazing product to give a perfect shape to your cake this birthday. It is a high-quality durable product. Moreover, the non-stick feature offers its user easy removal from the oven. This product suits every rectangular shape dessert which you are planning to bake this summer. You won't face any hassle in removing stains or cleaning this item.
12V Safe And Durable Electric Lunch Box
We all look forward to eating our lunch from the moment we have our breakfast. However, by the time we finally get to have our lunch the packed lunch gets cold. To avoid this situation try this 12V electric lunch box. The best part of the product is that it does not overheat or burn your food inside. Additionally, the easy mechanism makes you use the product even inside your car. It is a safe product to depend upon.
10m Transparent Cake Wrapping Tape Roll
Cake wrapping rolls are essential in this fast-paced life. It gets manufactured from food grade PP material, therefore they are non-toxic eco friendly. Since the product is an oil resistance item, hence wiping it off cleans it up. However, you can definitely use water to clean the tape as well.
Butter Tray Container
Are you thinking of changing your butter container this season? Try checking this product out. It is a see-through container hence you would know how much is left. Apart from butter, you can also store, cheese, fruits and other small food items in this container. It is dishwasher friendly product.
Bread Slicer Holder
Having your bread in perfect shape is somthing neat. However, without any holder, it is a pretty tough task. Therefore to make your bread shapes precise and neat, try out this device. This tool offers an ultimate guide to have your slices come out with equal thickness. Additionally, you won't feel the hassle to clean and use the product. And it is ABS plastic_product.
Barbeque Motor Grill Rotisserie Rotator
This simple device adds enhancement to your barbecue nights. Additionally, you can also carry this mini rotator to camping trips or simple outdoor picnics. Besides, it is a waterproof device that undoubtedly produces very low noise. Moreover, it is an ABS product with a high-quality metal frame.
Bamboo Matcha Tea Whisk
It is one of the essential of the ardent tea lovers. Each whisk gets crafted carefully and precisely in this bamboo matcha tea whisk. And the products get made from natural high-quality bamboo to sustain for a long time.
Bamboo Heat Resistant Pan Mat
This bamboo heat resistant mat is an eco-friendly mat that comes in an elegant design. Therefore you can also consider it gifting to your near and dear ones this anniversary. It servers the purpose of protecting the tabletop while enhancing the look of your dining room. You can also use this device serving some other purposes as well.
Baking Wooden Rolling Pin
This wooden rolling pin helps you make a variety of pastries and pizzas. It is an amazing tool that offers a perfect balance to the dessert preparation. Additionally, it is a natural wood rolling pin, hence it is an environmentally friendly product to invest some bucks. You can choose from several options perfectly suiting your purpose. Although it is a wooden tool, you won't feel the hassle in cleaning and storing the product. Besides, the non-slipping grip is another great feature.
Bamboo Barbecue Sticks
Are you planning a party next month? And is it a barbecue-themed party? Therefore consider checking these bamboo sticks for your barbecue party this summer. Also, you can include these sticks to your camping trips, wedding parties, picnics or any family gatherings. You can serve fondues, barbecues and grilled food with these sticks. These simple sticks are made from premium natural bamboo without additives.
Adjustable Cheese Grater
This grater is pretty different from the regular ones. The style and design of the grater is convenient and comes with a handle grip for safety cheese slicing experience. It is a dishwasher safe device, hence you can easily wash and store the product. Adjust the thickness of the slices by turning the screws next to the blade. The product is a zinc alloy item, hence it will last you for a very long time.
8 Inch Oval Rattan For Bread Dough Proofing
This kitchenware is one of the fresh innovations for the baking industry. This unusual item gets mostly used for rising or proofing the dough. One can also use the device for dessert decorating purposes. Additionally, the linen liner makes it a pretty easy to use material. Once you clean the linen up, you can again reuse the product several times. This is_a perfect gift idea for professionals.
6 Pc Chocolate Dipping Fork Cake Fondue
If your friend is amazing in making chocolate art, then gift her or him this 6 Pc set of chocolate dipping fork. It is an eco-friendly product and will definitely bring a smile on your friend's face.
6 Pc Royal Style Metal Spoons And Forks
Is your friend's wedding is just at the corner? How about gifting your friend a set of royal style metal spoons and forks? The elegant look of this spoon and fork set is astonishingly appealing to the eyes. Additionally, it enhances the look of the dinner table. Besides you get to choose from a lot of variants.
6 Cups/300ml Electric Coffee Maker Aluminium Pots
Drinking coffee every morning makes you feel fresh. And are you planning to change the old coffee machine this year? You can check this product, this would definitely suffice your need. Besides, this coffee maker enables you to make around 6 cups in one go which is great. It is an 'easy to wash' product and comes with a quantity capacity of 300ml.
6 In 1 Multifunctional Vegetable Slicer
We often think of experimenting with veggies in your kitchen. And having this slicer enables you to have the experiments a success. Slice your veggies in various shapes and sizes. Besides, it is an easy to wash product. The blades are a high-quality item, therefore they are built for constant usage and will also last you long.
Electric Food Slicer
Cooking is fun. However, the time we tend to invest in slicing out products makes it a hassle. But not anymore. With this lovely product, slicing down veggies, fruits are easy. Additionally, the thickness of the slices gets adjusted by simple switches in the machines. Another best part of the slicer is that you can also slice your meats. Besides the security lock button helps you hold the food in place to have it precisely cut. And the tremendous speed lets you have as many slices you want.
Egg Yolk And Egg White Separator
If you are an avid bake,r you will definitely want this device. It makes the whole process pretty handy and easy. It offers you a high-quality baking experience. Besides this high-quality product is sure to last you pretty long.
Durable Rice Washing Straining
Using the old school method of washing rice is pretty boring. Additionally, it is not a precise technique to talk about. Try checking this item for once, and you will never go back to the old method of straining your rice. Additionally, this pretty convenient method allows you to thoroughly wash the grains up leaving out all traces of dirt and dust. Also, you can use this product in cleaning fruits, veggies, meats, fishes and more. With great durability, it is a non-toxic product that gets made from food-grade plastic.
Double Layer Lazy Snack Bowl
This is a great alternative to the above product. The product is a high-quality item that you can use for both washing and storing. Besides, the double layer platform makes the whole idea of washing and draining perfect and thorough. You can also use the product in carrying out several other purposes too.
Condiment Bottle With Twist On Cap Lids
Having a condiment bottles in cafes and restaurant is pretty regular. How about bringing in some for your home. It lets you have your three meals in day tasty. Besides it lets you have the exact quantity to enhance the taste. Moreover, there is no chance of losing the cap of the condiment bottles.
Cleaning Sponge With Handle
A neat and clean kitchen makes your cooking time exclusive. However, cleaning the kitchen with regular kitchen scrub is an old idea to incorporate. Therefore try this fresh and new idea of cleaning sponge. The handle in this device lets you have it precisely clean the corners without leaving any trace of grease or oil. You can also use this device to clean your utensils.
Citrus Zester And Cheese Grater
This grater is another great choice to get incorporated in your kitchen cabinets. You can have it serve you the dual purpose of grating cheese and also use it as a citrus zester. The unique style and design enables you to apply the apt force as per the requirement. Moreover, the metal grating teeth do not get clogged up with constant usages. It is a razor shape product which will last you long.
Cheese Melter Pan
Having melted cheese frequently at dinner time is pretty amazing. Therefore invest some bucks in this amazing cheese melting pan to add a touch of extra yumminess every night. Besides, the durable material will last you long. Additionally, this simple tool is quite easy to use, even for the ones who do not know how to cook can sue the device.
Ceramic Kitchen Knife Set
A kitchen misses a lot if it does not have a knife set. Therefore gift yourself this pretty kitchen knife set this birthday. Besides, it is an ABS, TPR and ceramic kitchenware which will surely last for a long time. Moreover, the various knife sizes make you have them used for different appropriate functions as well.
Fish Scale Scraper Kitchen Tool
Cooking any fish preparation is the easiest now. With this scale scrapper, you can conveniently remove every single scale from the fish. It is a handy product which you can carry in your outdoor trips too. Moreover, it is an ABS stainless steel product that will last you long.
Conclusion
So, what are you waiting for? Are you ready to ease your job in the kitchen? Bring home these awesome kitchen accessories and make your life a breeze. Read the reviews and get a detailed idea about how they are going to help you.